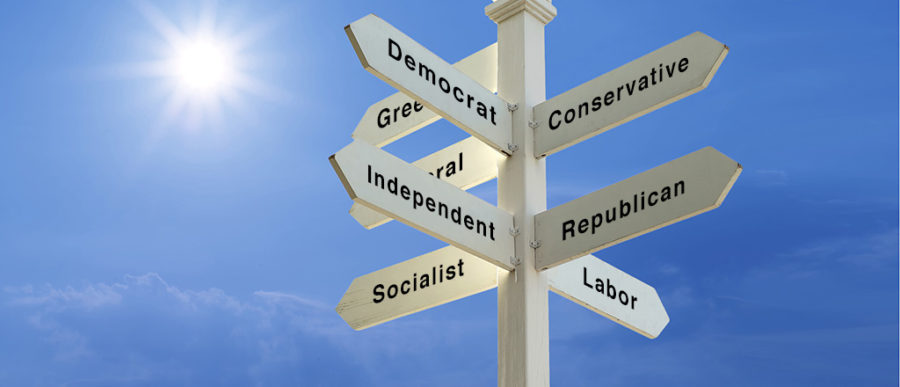 On January 20, Joseph Biden, was inaugurated as the 46th president of the United States. Many people heaved a collective sigh of relief, while others cried out in rage. There are still people who believe the election was "stolen" from the incumbent, Donald Trump, and there are still people who believe that Trump was an illegitimate president from the beginning. And all the while, political labels are being thrown around like grenades: Republican, Democrat, Conservative, Liberal, Centrist, Libertarian, Independent. From where I'm sitting, the squabbling between the various political parties seems like a throwback to tribal style politics, where one group yells at another one until they back down in submission, or the two groups engage in open hostilities until one is standing and the other is thoroughly trounced. Up until January 6, United States politics has rarely gone to the level of violence, but if the collective mood is anything to go by, it's going to become more common.
I must ask weather or not people from the various groups are even trying to find solutions to the nation's problems any more. They seem more concerned with making sure their side has all of the cookies in the jar. What's worse, it seems to all be about labels. If you're a Democrat, the Republicans hate you are are determined to destroy you. If you're a Conservative, Liberals have labeled you as a monster that needs to be purged from the collective conscience, and so on.
Does anyone look beyond the party labels any more? If they don't, they should. I recently read a very interesting article by a woman named Lori Gallagher Witt called "I am a Liberal."[1] I found this article very thought provoking, and not because of her political views. My own politics tend to lean Liberal, but like Witt I don't always fit the classic mold. I liked was how she took various key issues and described her views on them, while actively avoiding references to one political philosophy or another. It's at the end, when you've seen the totality of her views, and her overall values, that she says she's liberal. It's not because of one issue, or one set of events, or one particular person. It's a summation of different views on different topics.
Given how politically divided the United States has become, I think it would be a good idea for everyone to try writing an essay like this. If we all sat down and actually thought about what we believe, and not what some political spokesman says we should believe, then we would all be in a better position to make decisions. We would also be better able to call out some of the less savory members of the government.
I tried to take the structure of Witt's essay and come up with a series of questions that we should all ask ourselves. Notice that I specified the structure of her essay. You don't have to agree with her politics, or belong to one school of thought or another. And you don't have to broadcast the results all over the world the way she did (and how I plan to do). These are just the things that I believe every US citizen should have some sort of answer for. If for no other reason than to have a concrete answer when these questions arise. (And surprisingly, they often do!)
That being said, the structure of Witt's article went something like this:
What is the purpose of the government? Some say it's to help look after members of society, while others say it's only purpose is maintaining law and order. What do you think?
Is health care a right, or a privilege? Think carefully on this one, because it's a hotbed.
Is education a right or a privilege?
What is your opinion of taxes? No one likes them, some consider them a necessary evil, others consider them just part of life, and others oppose them with ever fiber of their being. Where do you fall, and more importantly, why?
Do you believe that every person should have a living wage? Or are their some jobs out there that simply don't warrant a living wage?
Do you believe in the separation of church and state? This one has become surprisingly blurred in recent years, as politicians keep trying to legislate their religious beliefs into law. Spooky stuff.
Do you believe that everyone should have the same core rights, regardless of race, creed or sexual orientation?
How much control should the government have over day to day life? Most people dislike regulations and laws, but human behavior has so much nasty stuff in it that such things are necessary.
The essay goes into other specific issues, like sustainable energy and gun control. Those would be worth looking into as well. I can also think of some other issues that deserve discussion. But let's just start with these. You may discover your views aren't quite what you expected, and that your traditional opponents may not be as crazy as you thought. Sometimes liberals and conservatives what to achieve the same things. The difference lies in how they go about achieving them. I've found that when people actually share what they believe, instead of what their political party says to believe, they often have more in common than they originally thought. And once we can agree on goals, then we can discuss how to get there.
So I ask you, wonderful readers: what do you believe?
---
The article has been floating around the Internet for almost two years, and for a while it was wrongly attributed to film maker Ron Howard. I suspect that at some point Howard forwarded Witt's article to a major media outlet, and the pedigree became confused. That sort of thing is actually rather common on the Internet.
---
Image credit: Roosevelt Review.